Getting a good night's sleep is an important part of living a healthy lifestyle, just like eating right and exercising regularly. Focus on your sleep, improve your mental and physical health, and earn extra points on Healthy Emory Connect.
How to Participate:
Join Healthy Emory Connect. If you've already joined, you are ready to begin.
Log in to Healthy Emory Connect to start tracking your sleep and other activities to earn extra points. Participation starts August 1, 2018 and continues through the end of the year.
Earning Points: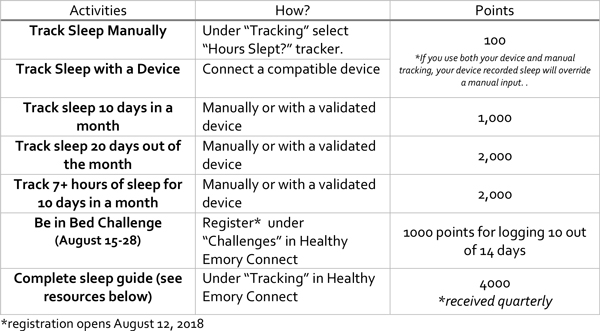 Learn more about sleep:
Webinar: Sleeping for Optimal Health – Sleep is as important as the right diet, consistent exercise and stress reduction for optimal health and functioning. What happens when I sleep, how much sleep should I get and could I have a sleep disorder – will be discussed in this session.
Presenter: Nancy A. Collop, MD, Professor, Director of Emory Sleep Center

Watch the pre-recorded webinar
Resources: